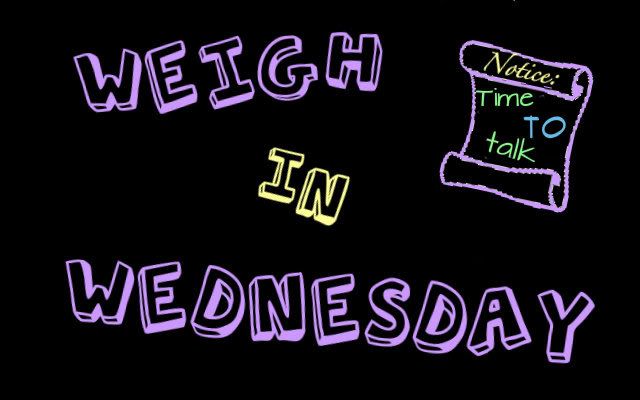 Weigh in Wednesday is a weekly meme hosted by
Epilogue
. The topic for this weeks meme is:
I'm not really sure I have much of an argument here. I simply like Fantasy more. I don't mind contemporary it just... bothers me sometimes. I think maybe it has more to do with my personality, for the most part I'm down to earth (sort of), drama free and a little socially awkward, I've spent a great deal of time avoiding entering any sort of daily drama (it's beneath me). I definitely don't want to read about it, especially when it is a problem I think can be solved rather quickly. Why is it a whole novel and not a short story? To me contemporary isn't realistic or believable, I can't relate to it, it's as much nonsense as Fantasy, so I'm going to read what wasn't meant to be realistic.
Also I'm rather picky with the authors getting things right. I let it go when it something I don't know about, but when I know enough about it? Once I read a book about a character who was ageing out of the foster system, and I'll be honest I don't know much about it. However, I know enough about what some states will do for kids who are ageing out, but are continuing their education. This bothered me so much, I actually had to put the book down and it took me months to get back to it because I had liked other works by this author before, and I knew that this problem wouldn't mean much of anything later on in the book. I just had to ignore anything about that.... Still, I'd rather stick to fantasy in non-modern settings, there's more room for the authors to do whatever they want.
And having just finished the Mistborn series a couple days ago (
go out and read that series if you haven't it's amazing!
). Fantasy novels often get me in a good mood, even when the ending is sad and I cry like a baby, it still allows for the reader to know that things could be okay. Even when the ending isn't quite open-ended, it leaves "hope." Where as when bad thing happen in contemporary... well that's it isn't it. The characters can move on, and I know what moving on is like, it doesn't leave me satisfied with the ending I can tell you that much.
So... what about you? Contemporary or Fantasy?