I know I often say this, but I love giveaways. I don't know if it's only because I first learned about them under a year ago or what, but they never get old. Recently I've come across a number of blogs that have blogoversary and/or follower giveaways! So here's a few of them!
Blog of a Bookaholic
reached 200 followers. For the giveaway the winner would get a book of their choice under $10.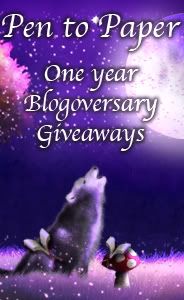 Pen to Paper
has reached their first Blogoversary. There are a few giveaways to celebrate that. Clicking the button above would send you to the giveaway to win a signed copy of Soulless by Gail Carriger and signed copy of Timeless by Gail Carriger.
Shelfspace Needed
is celebrating 3 months and 200 followers. There are two bundles to be won, a paperback one and an ebook one.